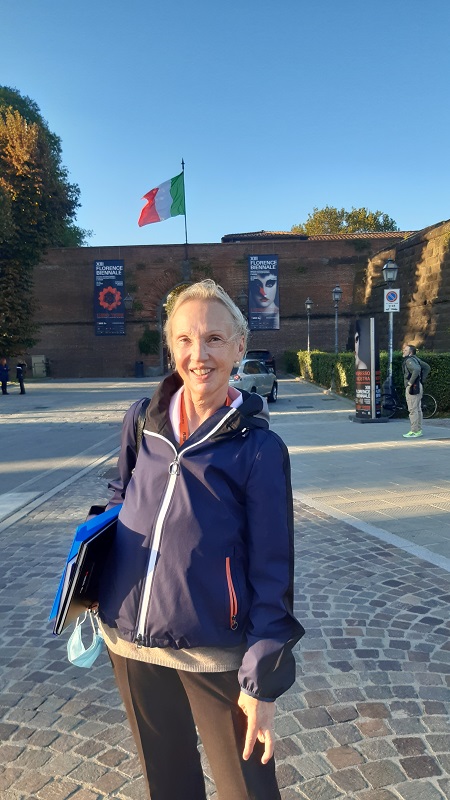 The artist Marieluise Bantel was represented at the Florence Biennale 2021 from 23 to 31 October with paintings from her series "The Beauty of Decay" and was also present in person. The event took place in the Fortezza da Basso, a 16th century fortress complex in the city of Florence. The Medicean fortress is located in the heart of Florence and it combines Renaissance architecture masterpieces and state-of-the-art technologies. Nowadays the fortress is part of the Florence Congress & Exhibition Center. Its privileged location and the charm of its venues make it a unique place.
The city of Florence, with its beautiful historical setting, is considered the "cradle of the Renaissance". It has always been associated with the world of art and culture. It is therefore not surprising that art and culture still play a significant role there today. The Florence Biennale is the most important international event for contemporary art in Florence (Italy) and has now taken place for the 13th time. Patrons of the event include the Italian Ministry of Culture, the European Parliament, Italian National Commission for UNESCO.
The event, which takes place every two years, always offers an extensive supporting programme consisting of conferences, exhibitions, performances, workshops and
lectures. Both the artists and the public thus have the opportunity to meet and exchange ideas on various aspects of art and culture.
The Biennale's reputation is also reflected in the fact that world-famous celebrities such as the English fashion designer Vivienne Westwood and the Hungarian photo artist Flora Borsi showed exhibits and were there in person. Westwood was awarded the "Leonardo Da Vinci" Lifetime Achievement Award at the event. Borsi received the "Lorenzo il Magnifico" President's Award.
For Marieluise Bantel, the Florence Biennale was a very positive experience. On the one hand, it was her first visit to Florence, a city that inspires with its beauty, liveliness and incredible diversity of art and culture. On the other hand, the Florence Biennale gave her the opportunity to come into direct exchange with artists of different styles.
Next she will exhibit her paintings at the international contemporary art fair art3f in Brussels (Belgium) from 26 to 28 November.