Biography

Marieluise Barbara Bantel was born in Metzingen, Baden-Württemberg. Her childhood in a rural environment and early stays in England deepened her closeness to nature, which is also reflected in her paintings. She prefers to paint flowers, especially roses. Her works reflect the richness of colour, the expressiveness and beauty of flowers. She tries to capture what the short-lived beauty of the plants wants to tell us – in this way she creates very different works. With her flower painting Marieluise Barbara Bantel shows her connection to nature. She captures the expressiveness of the flowers in many different ways. The splendour of flowers always wants to tell us something. With its curvatures, ramifications, elevations, depressions, shapes and play of colours, it wants to capture us, exchange with us and delight us. Ms. Bantels paintings in oil capture the effect of the flowers and carry the viewers away into a colourful world.
Marieluise Bantel studied free painting at the "Freie Kunstschule Stuttgart – Akademie für Kunst und Design" and graduated with a diploma.

Memberships
American Society of Botanical Artists (ASBA)
Galerie Kunsthöfle e.V.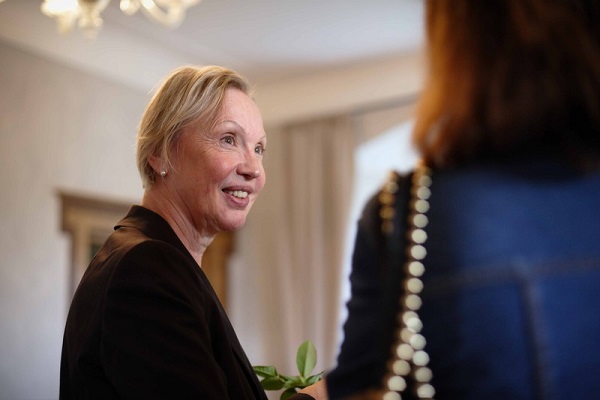 Exhibitions

2022
Swiss Art Expo 08/24 – 08/28 / SBB Event Hall Zurich / Zurich (Switzerland)
The Beauty of Decay 03/07 – 03/24 / Haus der Wirtschaft Baden-Wuerttemberg / Stuttgart
2021
art3f Brussels (International contemporary art fair) 11/25– 11/27 / Brussels Expo / Brussels (Belgium)
XIII Florence Biennale 10/23 – 10/30 / Fortezza da Basso Firenze / Florence (Italy)
Collective Art Show 03/03 – 03/18 / Van Gogh Art Gallery / Madrid (Spain)
2018
Paintings & Poetry 09/24 – 10/19 / Volksbank Ermstal-Alb / Metzingen
2017
Plants dance (Pflanzenreigen) 06/02 – 09/10 / Crona hospitals / Tübingen
2016
Rosen and their diversity 10/16 – 10/23 / Residential Palace Ludwigsburg / Ludwigsburg
In the garden 08/21 – 10/13 / Filseck Castle / Göppingen
2015
Autumn (judged exhibition – one of the winning pictures) November 2015 / Linus Galleries (Los Angeles, USA)
Roses and their companions 05/17 – 09/11 / Town hall / Mössingen
2014
Rosen, tulips, carnations … 06/08 – 06/15 / Castle Kalteneck / Holzgerlingen
Flora (judged exhibition – one of the winning pictures) January 2014 / Linus Galleries (Los Angeles, USA)
2013
… in every season 10/13 – 10/20 / Residential Palace Ludwigsburg / Ludwigsburg
Roses in oil 02/20 – 06/30 / Museum of local history "Beim Strumpfar" / Oberstaufen

Awards
2022 – Gold List Award, Art Market Magazine
Curated by Jacopo Celona / General Director Florence Biennale
Eric Smith / President & CEO Redwood Media Group
Jörgen Golz / Chief Director Discovery Art Fair
Mark Edward Harris / Int. acclaimed Photographer
Dafna Navarro / CEO & Editor in Chief Art Market Magazine
2022 – Finalist, Project Zürich 4.0 Artbox.Projects
2021 – Finalist, Section: Create (Art) London International Creative Competition
2020 – Winner of the Ash Wednesday Art Prize Freie Kunstschule Stuttgart – Academy of Art and Design
2020 – 3rd Place, Florals & Gardens contest International Artist (Magazine)